Holiday Giveaway!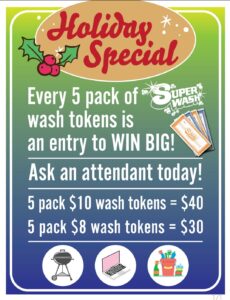 We will be extending the drawing to February 2022.
Winners will be notified after February 15, 2022.
To enter: purchase any 5 pack of our wash tokens. We will gather your name, phone number and email address. Winners will have until the last day of February to respond to our notification of winning. If you have any questions please contact one of our attendants or call the manager, Jason, at (503) 735-5214.
We look forward to seeing you at Superwash McMinnville.