Hello! Over here at the McMinnville SuperWash, we get your car back to shiny using a proprietary soap and warm water with all of our wash options. This includes both our self serve bays and our automatics. The water works hand in hand with our Super Soap to eliminate dirt and leave your ride shining bright! The Super Soap we use is a highly concentrated and low pressure combination that creates the foundation for a "Super Wash!" Because of the soap and warm water, you also don't need to dry your car to get a streak-free shine. We also do sell towels if you prefer to dry it.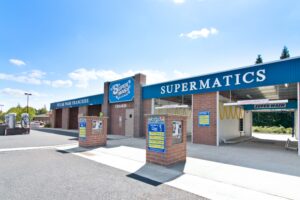 "Supermatic" Automatic bays are located on the right side of the building, where a machine is waiting to wash your car for you! The process is much simpler than it looks, just pull up to one of our brick kiosks and pay with cash, card, or tokens. Keep in mind that these machines don't give change. Once the machine processes your payment, the light will turn green, signalling you to pull into the bay slowly. Be mindful of the guard rails as well, it's possible to dent a hubcap if you hit it too hard. You'll drive forward until your front left tire activates our panel, which will cause the light to go from green to red, and start the wash!
You can then sit back and relax, because the pressure washing bar and tri-foam sprayers have got it from here. The photoelectric eye and our computer system in our automatic bays ensure that the pressure spray nozzles on that blue bar are the optimal distance away from your car to clean it the best. Nothing ever touches your car, which means no scratching or dulling can happen, which is a problem with brush or fabric systems. Your car will go through a few cycles, then the bay door will open and the light will flip back from red to green. This means that the wash is over and you and your sparkly ride can head out on your next adventure!
If you would describe your car as extremely muddy or if you have a lot of dead bugs in your grill, you would be much better off using the self-serve station on the left side. The optional hogs hair brushes shouldn't damage your vehicle, but they will get the accumulated dirt and grime that the touchless automatics can't always get off. It's just a matter of concentrated water pressure and the aim of a human hand technology that does the trick.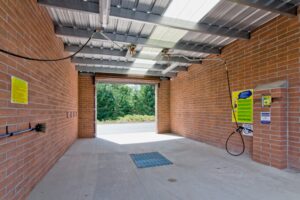 When using the self serve, you will want to start off with the low pressure Super Soap cycle. Move from the bottom to the top of your vehicle to allow the soap to work. The cool thing about the self serve is that you may apply more coats of Super Soap if your vehicle is especially dirty. After a good pre-soak, you have a choice between the high pressure soap or the foaming brush or even a combination of them both. They are both highly effective at banishing dirt, grime, and bugs from your vehicle. You will want to follow this up with a high pressure rinse to get the suds off. The high pressure rinse will clear the soap from your vehicle, leaving it sparkling clean. In this case, you want to work from the top of your vehicle down. Then, after the rinse, you have the option to apply a high pressure polish. Something different about our polish is that we use a water based mix instead of oil based. This way you still get that radiant shine without window smears and smudges, all the while being eco-friendly. Ask your attendant about the best practices to get your car shining bright, we will know all about it and are more than happy to share.